GM noted the other day that the house seen above (3024 Q St.) was one of his favorite homes in Georgetown. That got GM wondering, what are his ten favorite homes in Georgetown?
This wouldn't necessarily be a list of the ten "best" homes in Georgetown. There are plenty of beautiful homes that GM would kill to have, but this is more a list of the homes that are not necessarily the biggest, most expensive homes in Georgetown, but rather homes that simply catch GM's fancy.
Here they are in no particular order:
1237 30th St.
GM was originally drawn to this house because it always had little candlelights in every window and was shaded by a beautiful tree out front. Neither of those feature remain. Nonetheless, this house will always appeal to GM for its lovely proportions.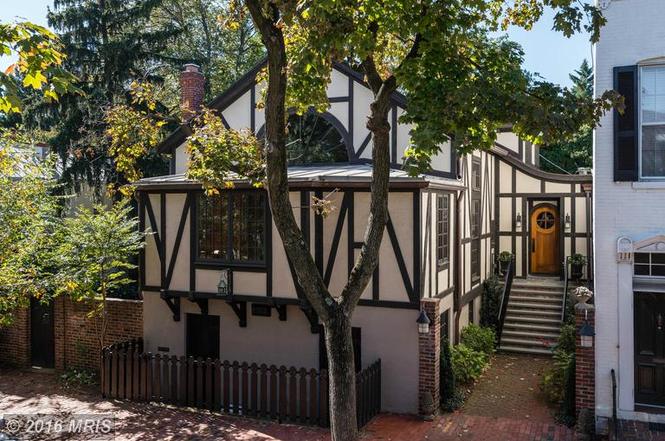 1552 33rd St.
This unusual house has a fascinating history. It was originally a Presbyterian Church. And it was converted to a house in the 1930s by Karl Ernst, brother of the famous painter Max Ernst.
It was Ernst who added the Tudor style features (the church had a simply clapboard siding). In 2011 when the family that owned the house planned a dramatic renovation they asked the Old Georgetown Board if they could restore the original clapboard appearance, but were turned down. The Tudor style had become historic.
GM is lucky because he lives across the street from this house and gets to admire it every day.
1694 31st St.
Upper 31st St. has a bunch of fantastic homes. But this one takes the cake. The gingerbread Victorian style is almost unheard of in Georgetown and this one has it in spades.
3235 R St.
On another stretch where all the houses are spectacular, this one really appeals to GM. It's probably the fact that between the porch and the clapboard siding, it looks straight out of New England.
GM missed his chance when this sold in 2014 for $5 million.
1633 31st St.
Again, maybe it's just the clapboard that's doing it for GM, but he has always loved this home on the corner of 31st and Avon. GM also missed his chance for this house in 2014, when it sold for $3.6 million.
1402 31st St.
This home is probably a lot of people's favorite in Georgetown. Between the cheerful bright yellow color, the charming Second Empire style, and the lovely gardens, this is a beautiful house.
(And yet another one from 31st st. Huh.)
Pretty Much Any House from Cooke's Row
Ok this is kind of cheating, and also getting into the territory of just amazing houses (GM might as well include Dumbarton Oaks and Evermay) but GM is going to include Cooke's Row anyway. They're a delightful mashup of Italianate and Second Empire architecture and have a great history to them (the first governor of DC, Henry Cooke, developed these homes and lived here).
2726 P St.
This tiny house is hugely charming. You can practically reach out your hands and touch both walls of this house.
Sadly recent owners painted it a different color than the perrywinkle seen above. But it's still charming.
1312 and/or 1314 30th St.
This stately Second Empire is actually two homes. But GM will happily take both and merge them if you're offering.