I was officially sworn in as Commissioner yesterday, and so the job now begins! And the first to-do I set out for myself was to establish a monthly newsletter for constituents. That box is now checked. Please sign up for the newsletter at Georgetown.substack.com. While the newsletter is primary intended for my constituents, obviously anyone can sign up!
And here is the first edition that I published yesterday:
Northwest Georgetown ANC Update – January 2023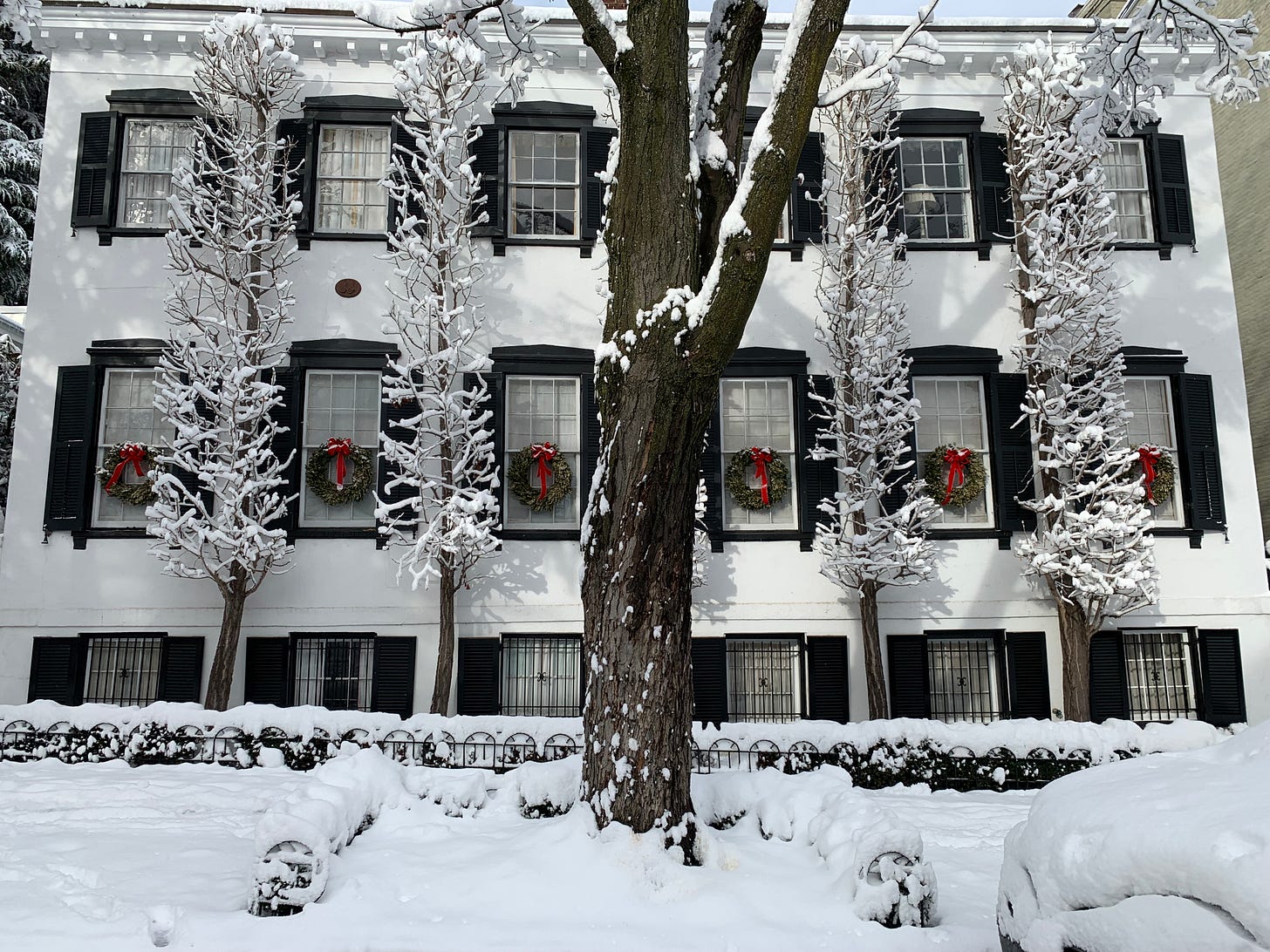 Welcome to my inaugural ANC update email! I will be sending one out every month giving you information on what's happening in our corner of Georgetown (and the rest of Georgetown too).
And to kick it off, I though it would be helpful to layout what exactly is our corner of Georgetown, or at least what my district entails. Roughly, it's north of Volta Place and west of Wisconsin Ave., and east of 35th. Additionally it includes the Cloisters and a few blocks east of Wisconsin between Reservoir, 32nd and S St. Here's a map if it helps: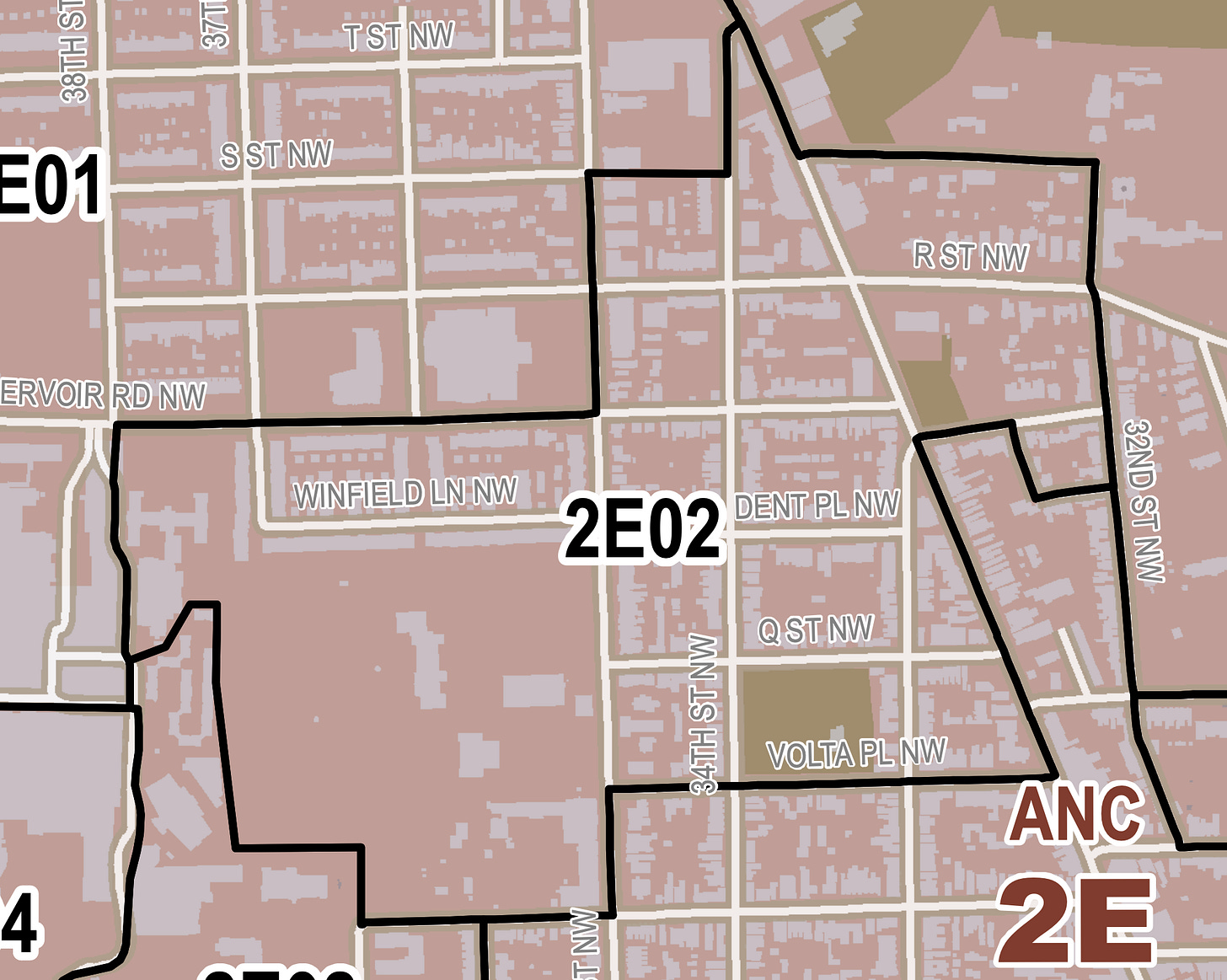 (Of course anyone can sign up for the newsletter! But my primary focus will be on news that impacts my constituents.)
And now on to the updates:
As you may have noticed, the city was fairly delayed in leaf collection. The Department of Public Works (DPW) was scheduled to take away our accumulated piles of leaves between November 28th and December 3. That clearly didn't happen. It wasn't until last week that the crews finally came around and collected the leaves. It's certainly better late than never. News reports suggest that DPW is blaming rain and the switch from gas powered to battery powered leaf blowers. The ANC will look into whether a more realistic time frame can be communicated in the future.
As for disposing of your Christmas trees and other greenery, that will begin on January 3rd and run all the way till March 3rd. Just remove all the ornaments and lights and put it out on the sidewalk, preferably in a tree box or otherwise out of the way. The city will eventually collect it and turn it into mulch (which you can get from the city for free.) Alternatively you can bring the tree to Guy Mason, where the city is also collecting them from January 3rd till March 3rd.
And what to do if you still have bags or leaves or garden waste? As is the case for the rest of the year, you have to submit a request through 311 to get those bags picked up. (And they will only pick them up if the bags are those brown paper bags you can get from the hardware or garden store). If you have any problems with this, let me know and I'll take care of it!
Speaking of waste collection remember that trash and recycling will shift a day twice this month: the week of January 1st due to New Years, and the week of January 16th for MLK day.
And with the arrival of winter, remember that you are required to clear the snow from the sidewalk in front of your home (and both sidewalks if you're lucky to live on a corner lot!) I would like to gather the names of our neighbors who are physically unable to fulfill this job and arrange for volunteers to handle their sidewalks. So please reach out to me at 2E02@anc.dc.gov or 202-827-5405.
That's it for now, but as I get up to speed with the job my future updates will be more robust. Please spread the word for the newsletter and encourage as many neighbors as possible to sign up.