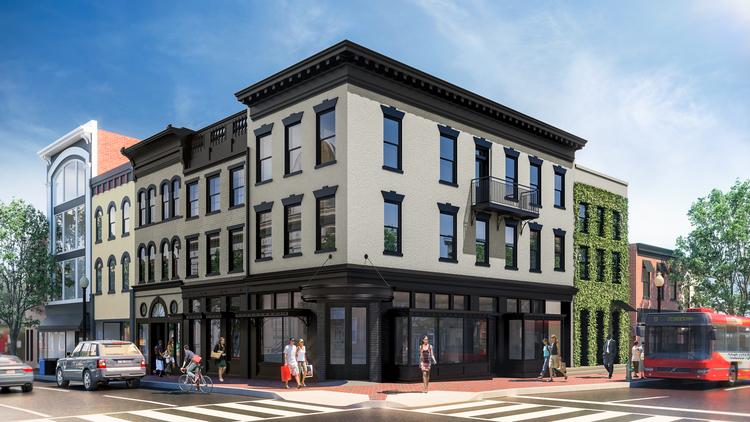 The Washington Business Journal reported yesterday that Sagamore Development, the owners of the historic Nathans building on the southeast corner of Wisconsin and M St., is seeking a tenant for the space. This comes as a surprise since the widely held assumption was that the sportswear company, Under Armour, would move in once the renovations are complete.
This assumption arose since Sagamore Development is an investment company owned by Kevin Plank, the founder and CEO of Under Armour. When Sagamore bought the property off the Heon family, there was some thought that since the building wasn't bought by Under Armour itself, then maybe the company wouldn't occupy it. But then pretty much everything GM heard about the property indicated that Under Armour would move in. For instance, when the architect, Ankie Barnes, presented the (beautiful) plans to the ANC, GM asked him directly whether he knew who would move in. His answer was that he didn't know for sure, but was assuming it was Under Armour.
Later GM heard a separate confirming theory that the cost of the building and all the extensive renovations would result in rents so high that only Under Armour would be a candidate since the whole project could be written off as a costly branding exercise for a company that was essentially started in Plank's grandmother's house here in Georgetown.
But with Under Armour bowing out it's hard to guess who or even what type of tenant will move in. Ironically, it's not always the high-end retailers who are willing to shell out super high rents. For instance, malls often have to subsidize higher prestige tenants. And an idea was once floated to use public money to entice a Bloomingdale's to Georgetown (the idea being that the only way Bloomingdale's would be able to match the rent that a cheaper store could pay would be to provide a subsidy).
But even still, it's hard to imagine such a prestige property newly renewed not ending up in the hands of a luxury brand of some sort. We'll see…
Interestingly, if this property sits empty once it's been renovated, then that will mean all three of the iconic properties formerly owned by the Heon family (the Georgetown theater, the Cellar Door, and the Nathans building) will have been expensively renovated and still sit mostly empty.