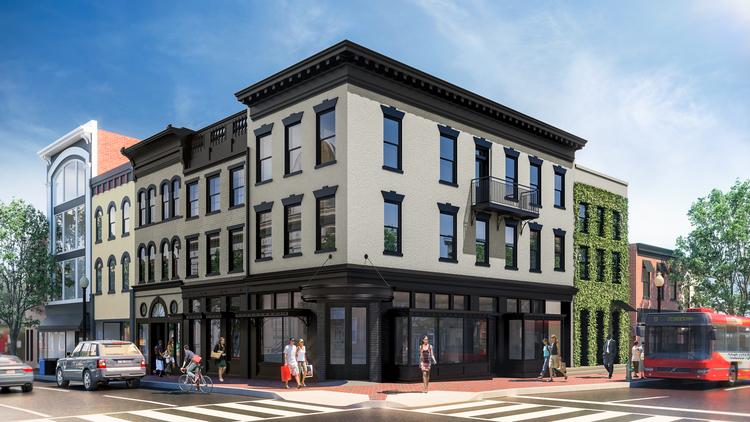 The Washington Business Journal reported yesterday that Capital One Bank has purchased the old Nathans building from Sagamore Development. And they paid a lot for it. A ridiculously lot for it. Namely $50 million.
WBJ is estimating that this puts the price at more than $5,700 per square foot, which could make it the most expensive square footage sold in DC ever. Sagamore bought the property from the Heon family in 2014 for a price reported to be around $14 million. Significant money must have been put into the project, but it still seems likely that Sagamore made a tidy profit on the deal.
This, of course, comes as a bit of a surprise. It was long expected that Under Armour would move in since Kevin Plank, the founder and CEO of Under Armour (and a Georgetown resident), owns Sagamore Development. But news reports emerged last spring that suggested that they were looking for a different tenant. Now this.
WBJ was unable to verify what Capital One's intentions are for the building. But it seems highly likely that it will end up a bank branch. This is absolutely a huge disappoint. This is an incredibly prominent building that has had a great history as a restaurant in several different iterations. Bank branches are retail black holes. They add nothing.
And it's surprising that Capital One would actually think they'd get a return on their $50 million simply running a bank branch, one that seems likely to simply draw business away from the other Capital One branch that's already in Georgetown. Will they just close that one? The future of banking isn't in branches anyway. This is a fact Capital One itself has recognized when it closed about 12 branches in DC last year. Maybe they don't intend to open a branch? The building is over 8,700 square feet. In addition, the bank is getting the lease on the space next door that was previously used by Lacoste. That's a lot of room for a bank.
This project has had a history of surprising twists. The only thing that appears predictable is that it will involve a looooooot of money.