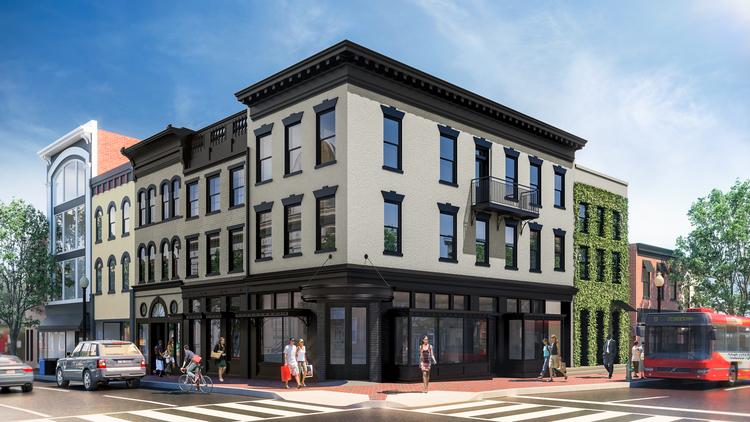 The Washington Business Journal has confirmed what some have already guessed that Capital One would do with its recently purchased property at Wisconsin and M. Namely, that the bank plans to turn the property into a Capital One Cafe. This is terribly sad. And lame. Super lame.
This is how the bank describes this new concept:
Capital One Cafes — which combine financial advisory space with a co-working lounge and a food and beverage operation — are designed to attract a younger audience. They are open to the public, not just to Capital One customers. The company has opened up more than 20 around the country but has none in D.C.
This is how GM describes this new concept:
The WBJ article homes in on the real purpose of this extremely expensive endeavor: branding. They write:
When 3150 M St. NW sold for such a high price, David Dochter of Dochter and Alexander Retail Advisors, which represented the seller, said at the time that it was a matter of both "location" and "branding." The comment makes a lot more sense now as Capital One prepares to put its brand on two of D.C.'s most high profile locations.
There is absolutely no way in hell that Capital One will ever get a return from the retail business at this location to justify the $50 million it paid for the property. They can't sell enough lattés or lines of credit to get this location into the black. But viewed instead like a giant billboard, then it makes sense. (Or at least gets closer to making sense).
This is the sad but inevitable conclusion of the "showrooming" concept GM has written about before. Once you detach a retail endeavor from needing to satisfy the needs of in-person retail shoppers, shops don't even need to pretend to care that much about in-person retail shoppers. M St. could eventually become one long corridor of billboards pretending to be shops.
It still boggles GM's mind that Capital One paid this much for this property. Given the size of the property, it seems impossible for the cafe concept to really be the only use. But we'll see.
All this does is make the closing of Nathans all that more sad: